LA FASHION WEEK DE NEW YORK : ENTRETIEN AVEC LE JEUNE LABEL TANNER FLETCHER UNE MODE GENDERLESS 1NSTANT INTERVIEW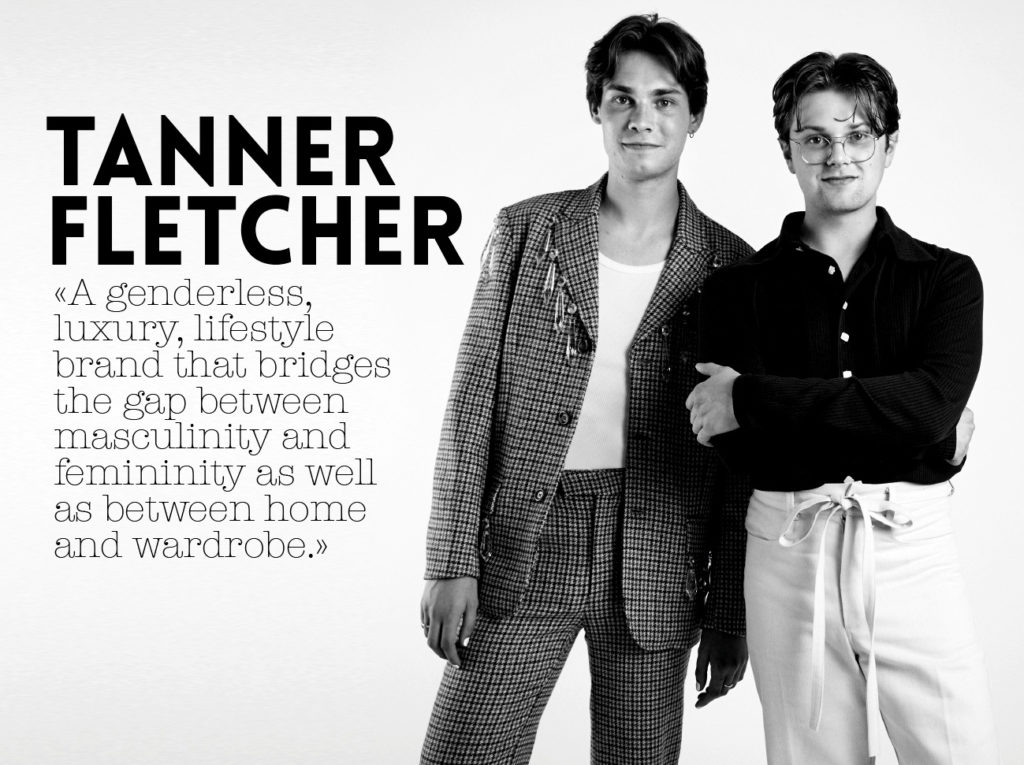 RESORT 23 / LA FASHION WEEK DE NEW YORK : ENTRETIEN AVEC LE JEUNE LABEL TANNER FLETCHER UNE MODE GENDERLESS 1NSTANT NTERVIEW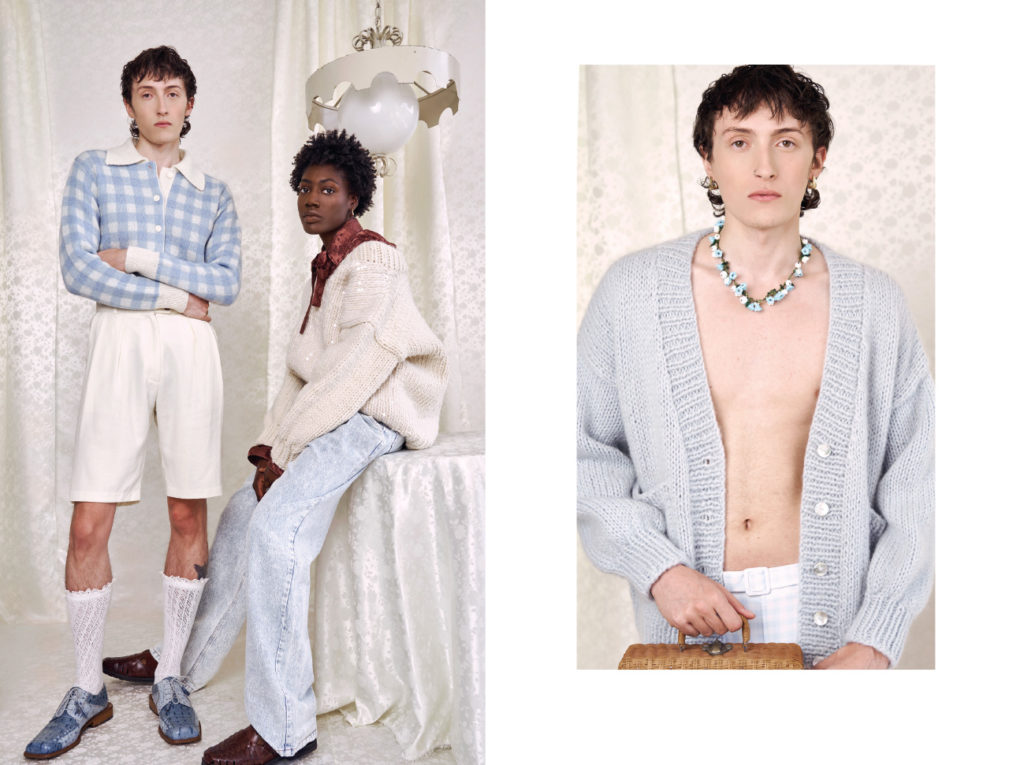 LA FASHION WEEK DE NEW YORK : ENTRETIEN AVEC LE JEUNE LABEL TANNER FLETCHER UNE MODE GENDERLESS 1NSTANTINTERVIEW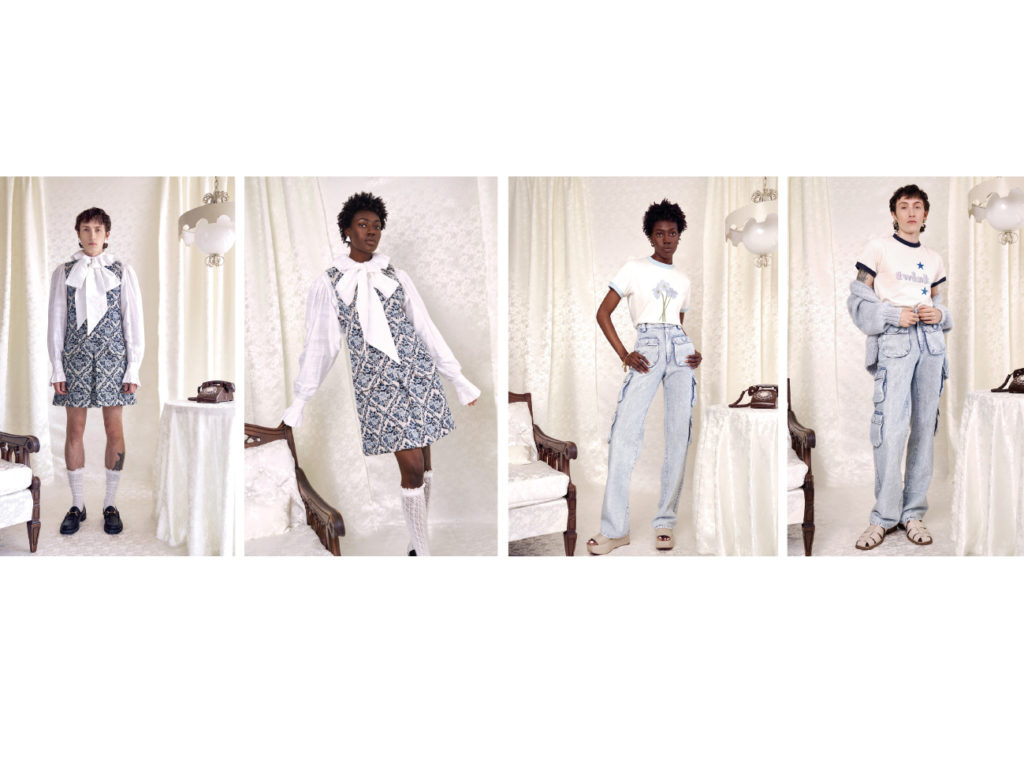 LA FASHION WEEK DE NEW YORK : ENTRETIEN AVEC LE JEUNE LABEL TANNER FLETCHER UNE MODE GENDERLESS 1NSTANTINTERVIEW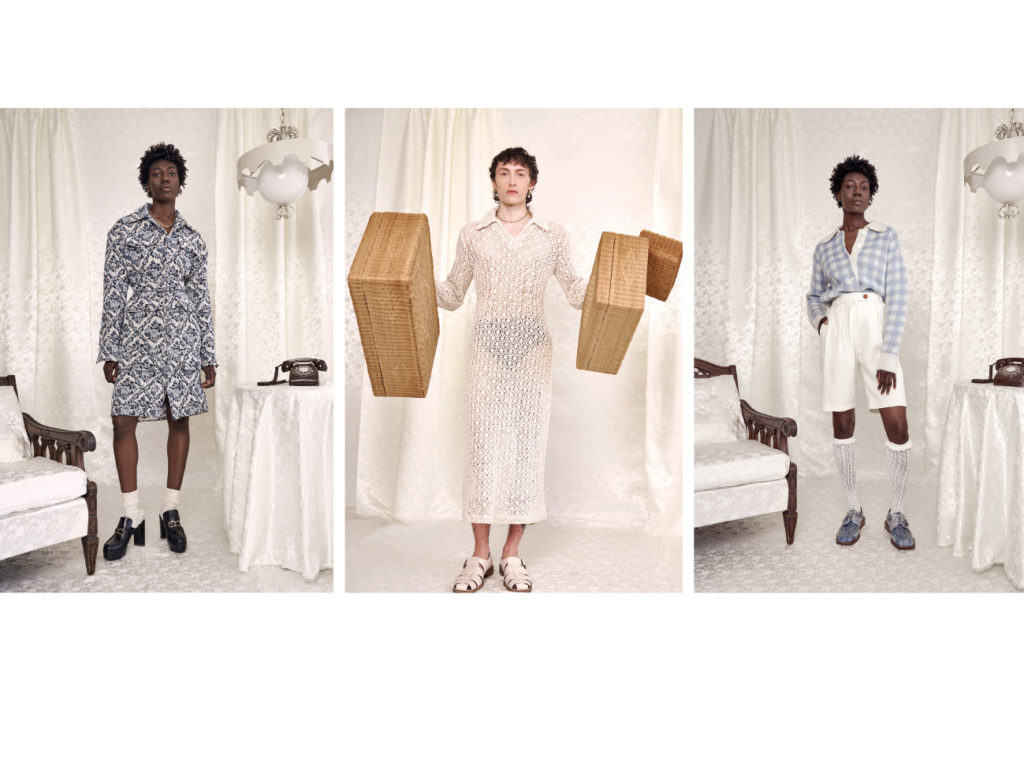 1nstant : INTERVIEW BY LINDA ADDOUANE
LA FASHION WEEK DE NEW YORK : ENTRETIEN AVEC LE JEUNE LABEL TANNER FLETCHER UNE MODE GENDER
1/ where did you grow up and what is your first memory of fashion?
Fletcher grew up in a small town of 3,000 people called Two Harbors , Minnesota and Tanner grew up just two hours away in another small town called Rice Lake, Wisconsin.
My first memory of fashion was traveling to a larger town 20 minutes away from us and going to the shopping mall for back to school clothes. I always liked to plan my outfits with great attention to detail from a very young age.
Tanner's first memory of fashion was watching Chanel runways on YouTube. He remembers how inspired he was by the lavish and over the top sets. He specifically loves the artist collection where there were many references to paint strokes and Florence and the Machine performed for the runway.
2/ when and how the adventure "Tanner Fletcher" started?
You could say that it started when Tanner and I first met as freshman roommates for university. We both moved to Minneapolis and were inseparable ever since. We always dreamed of doing something creative together whether it was designing houses together, making a hotel, decorating for the holidays, etc. We've always known that our creative minds compliment each other very well.
It wasn't until Covid turned our lives upside down that we were able to put this into action. Covid left us unemployed, quarantined back home with our families and no knowledge of what would happen next in our lives. We became bored and on edge so we needed something to channel our energy into. We began to make tote bags and some tees and hoodies and decided to try to sell them to retailers. We ended up getting about 6 stockists within the US to carry our products. This is when we took a second look and thought we might have something good on our hands. We quickly seized the opportunity and shifted the brand into our dream brand. Something that only existed in our minds. We launched Tanner Fletcher as what it is today for SS22 and was immediately picked up by SSENSE. While we are becoming this dream brand that I mentioned more and more everyday, there is still a lot more where that came from.
3/ How would you sum up the ethos of the brand?
Simply speaking, Tanner Fletcher is a genderless, luxury, lifestyle brand that bridges the gap between masculinity and femininity as well as between home and wardrobe.
In addition, Tanner Fletcher is bringing back treasures in art, design, silhouette, interiors, etc. that have been forgotten about but still fit into our modern day lifestyle. We want to ensure that our customer feels like they are not only getting a piece that is special and worth holding onto but they also receive an experience like no other.
4/ Richie, can you give us 4 or 5 adjectives (good or bad) to define Kasell?
And vice versa, Kasell, can you give us few adjectives to define Richie?
● Tanner Richie to Fletcher Kasell:● Creative● Sensitive● Passionate● Artistic
● Optimistic
● Fletcher Kasell to Tanner Richie:

● Hard Working
● Jack of all trades
● Persistent
● Opinionated
● Kind5/ Genderless fashion exploded in the last past 10 years. You need a strong aesthetic and vision to step up in the industry and appear like a unique brand. Do you think that you found your voice and your uniqueness thanks to all these changes happening?These changes have certainly enabled us to express ourselves more freely and with fewer restrictions. Aside from that, Tanner and I both recall shopping between Men's and Women's departments for most of our lives. We've been shopping without gender and didn't even know it. When it comes to our vision including our aesthetic and vision, we really have a distinct view on how we see the brand. As I mentioned before, it's this dream world without labels and with options for everyone and everything between home and wardrobe.Although there have been significant changes when it comes to fashion, we still have a long way to go when it comes to gender and sexuality becoming more normalized within the industry. We plan to be a leader on this front and hope that more brands will follow. It's as simple as removing labels and making products that are more inclusive and not focused around putting people into confined boxes.
6/ Tell us more about the SS23, what are the inspirations or influences behind this next collection?
Without revealing too much, the SS23 collection will be an extension of the vision that we're already establishing. There will be references to other time periods as well as references to interiors and home. The main aesthetic will focus around the concept of school days of the 1960's and 1970's. We hope that it will spark a very nostalgic emotion and homey emotion for our customers.
7/ what creation are you most proud and why?
While we are very proud of many individual pieces from Tanner Fletcher such as the Rita puffer coats, pronoun rings and the Irving chandelier blazer, I think we are most proud of creating and continuing to evolve/grow the world of Tanner Fletcher. The ethos and values behind the brand are what we are most proud of and will continue to be one of the most important pieces of the brand. This is our platform to not only express ourselves but make significant changes all the while.
8/What were you watching most while designing the last season? (TV show)
We have recently watched and pulled inspiration from shows like Ratched, Marvelous Mrs. Maisel, Mrs. America, and Stranger Things. It's funny how all these shows have an element of nostalgia which as you know, Tanner and I are always drawn to.
9/What is your process of fabricating new collections? (From the conceptualization to the final good) Are you producing and assembling everything in NYC?
Tanner and I usually begin with a story. We need some sort of concept or theme to design around. For example, last season (FW22) was designed around the concept of "Housewarming Party". We did this because it was our first ever in person event as well as our first time being on the NYFW calendar. We wanted to welcome our guests into a very home-like setting and celebrate our entry into the industry.
Next, we don't do a whole lot of sketching. Tanner and I will sift through vintage catalogs, images, yearbooks, basically anything we can get our hands on and we use a method that we call "frankensteining". We essentially will piece things together like a frankenstein. A dash of Hollywood regency, a reference to 1970's sleeves, perhaps a nod to a vintage needle point we found at the Paris flea markets. It combines many eras and concepts but in a highly curated and intentional manner.
10/ your design seems to be inspired from another time with a lot of references to the past centuries, how do you explain your success when you know that many brands are looking for digital innovations and futuristic 3D clothes?
Fletcher think in some ways, people are sick of always trying to find what's the newest and most cutting edge product and then in another 6 months having to change to the next latest and greatest thing on the market. Our customers want to go back to the classics. They want a product that is long lasting, something special and unique that they can keep and even pass on for years to come. They also want a product and a brand that is consistent and that they can go to for any occasion or need.
We also find a wonderful dichotomy between two groups of our customers. The younger and newer customer enjoys our designs because they haven't had a chance to dress in a way that is more intentional with many references and attention to detail. They find what we're doing new and exciting; something they've never seen before. This group grew up wearing leggings, sweats, tees, jeans, especially once covid came around. They want to be able to feel extravagant while timeless and on trend at the same time. Our group of more mature and experienced customers have been through this before but lost it somewhere in the early 2000's when minimalism came heavily into play. This group finds Tanner Fletcher to be familiar yet fresh, a reminder of something they've experienced before that makes them feel nostalgic.
11/ You are into interior design as well. If we look at your past life, how do you combine and integrate fashion into interior spaces? Any Interior designer(s) or type of architecture you cherish the most?
Yes, we like to look at interiors and wardrobe as one in the same. You dress your home just as you dress yourself. You collect objects, fabrics, pillows, dishware for your home just as you collect clothing, jewelry, accessories, shoes, for your wardrobe. You also replace things as they become outdated and save the timeless and special pieces to cherish forever.
Tanner actually comes from an interior design background and has experience working in the field. I ( Fletcher) have also always had a knack for interiors so it's a passion that we share together.
You can see this come into the brand in many ways. We like to use a lot of materials that are typically used in interior design. We find that it gives some of our garments an unusual hand but isn't too far off from what we're used to. For example, one of our signature fabrics is our recycled cotton tapestry. These actually come in blanket form from a blanket manufacturer that we then cut into garments.
We also like to make references in other ways such as embroidery techniques, wood work, trims, wallpaper and even color.
As you can tell the 60's and 70's are our favorite eras but no time period is off limits. We love Hollywood regency, arts and crafts, mid century modern, victorian, aesthetic movement, victorian revival, regency, y2k, etc. Some favorite interior designers and architects would be Kelly Wearstler and Frank Lloyd Wright.
12/ You are clearly a Brooklyn based entity, any favorite/ inspiring /secret spots you would share with us today? (Can be a restaurant, a bar, a park bench, a street, a shop or anything else)
We live very close to Win Son which is a wonderful Thaiwanese restaurant here in East Williamsburg. They have a coffee shop called Win Son Bakery where we get coffee almost every morning.
13/ If you could design an outfit for an iconic figure today (dead or alive) who would it be?
This is always changing and evolving from collection to collection but some of our favorites are listed here. Some of these people we may dress one day and some we will unfortunately never have the opportunity.
Harry Styles, Elvis, Lady Gaga, Elton John, Dolly Parton, Edith Head, Cher, Mick Jagger, Bianca Jagger, Troye Sivan, Angelica Houston, Gene Kelly just to name a few.
14/ what is your summer playlist? and how does your summer look like?
Lately, we have been listening to a lot of things that are (you guessed it) nostalgic. Anything from Barbra Streisand to Dolly Parton, Shania Twain, Marie La Foret, Chet Baker, Cher, Lady Gaga, Lana Del Rey, Simon and Garfunkel, Marvin Gaye, No doubt
Our summer has been and will continue to be very lovely. My sister Quinn just moved to NYC to pursue modeling. She actually was a model in our FW22 show so look out for her in SS23. She is staying with us for the time being so we are enjoying our nights out on our patio and bringing her to all the best spots in NYC. We get to feel like we're new to the city again. It's fun to see it with fresh eyes.
15/How do you see your immediate future? What's on the horizon for Tanner Fletcher?
In the immediate future, we are just going to keep doing what we're doing. We will continue to add new celebrity clients to our roster as well as begin to build our direct to consumer experience in a more intentional way. We expect to launch handbags as a new category within the next three seasons.
On the horizon in the distant future, we will add shoes, more home products, fragrance, and make our sizing even more inclusive than it already is. Tanner Fletcher will become a full lifestyle brand so keep an eye on how we grow in the coming months and years.
16/ Any upcoming project or desire for a collaboration that you could share with us?
There is no collaboration in the books as of now but we are on the lookout and waiting for the right opportunity and timing to come along.
17/ If Tanner and Fletcher was a dish, what dish would it be?
I think Tanner Fletcher would be a homemade soup. There are a lot of different ingredients that go into it that can be mixed and matched but somehow it all comes together to taste so good, puts you in a good mood and is a classic that everyone enjoys.
18/Last but not least, as we are a French magazine, can you tell us a sentence or a word that you know in French to wrap this interview?
The last time we were in Paris, we stopped at this lovely handmade lingerie store called Henriette H. We purchased a shirt that says Baise moi on one sleeve and la main on the other. The first as you would know meaning Fuck me and when the second sleeve is added, it means Kiss My Hand. We love a cheeky play on words and something with a bit of that French bite.
Thank you, Linda, for taking the time to interview us. We look forward to seeing the piece and would love to stay in touch!

Fletcher and Tanner